Frequently Asked Questions
Who needs in-home care?
Most seniors will require home care support at some point in their lives whether to help with a temporary health setback or it may be longer term for a more chronic health problem. Typically, home care is for people who need help with the activities of daily living (ADL's) and would prefer to be in their own home rather than in a facility. It could also be where a family caregiver needs a break from their duties as primary caregiver (also known as respite care). Perhaps a loved one's health is failing because they are unable to shop for and prepare nutritious meals or adequately perform the housekeeping tasks that keep the home safe and sanitary. Sometimes a person's emotional health will go into decline because it's becoming too difficult to get out to socialize, or because they aren't getting the physical or emotional stimulation that everyone needs to stay healthy. Studies show that active and mentally stimulated seniors enjoy a better quality of life and physical wellbeing. Making daily activities an interactive experience helps keep seniors strong, improve health and outlook on life, and reduces the risks for injury, depression and dementia. The decision should always be made in conjunction with or your family doctor and a geriatric Registered Nurse.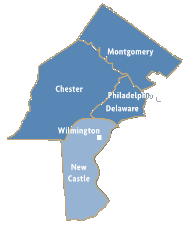 In what area are your services available?
We cover Chester, Delaware and Montgomery Counties in Pennsylvania and New Castle County in Delaware.
How much does home care cost?
Homecare from any Agency costs between $20 and $30 an hour depending on the length of the shift. Homecare is the best value and most comprehensive form of long term care available. It's usually less than half the cost of nursing home care.
See also Homecare Funding.
Are your Services more expensive?
No. We are very competitive. We don't, for example, pay franchise fees or royalties.
Does my Private Health Insurance or HMO pay for long term care?
Most forms of health insurance you may have on your own or through your employer follow the same general rules as Medicare. If they do cover long term care, it is typically only for skilled short-term medically necessary care. Like Medicare, the skilled nursing home stay must follow a recent hospitalization for the same or a related condition. Coverage in a skilled nursing facility is limited to 100 days. Homecare is also limited to medically necessary skilled care. Custodial or personal care is never covered. Many HMOs will help you pay for some of the co-pays or deductibles that Medicare would otherwise impose (e.g. the $128/day for nursing home care days 21 through 100).
Does Medicare cover your services?
Unfortunately, Medicare does not pay for long term care. It will pay for short term nursing and home health care which results from a previous hospitalization. If you have had a hospitalization of 3 or more days and nights, you can be eligible for nursing home care for services related to the illness treated in the hospital. In this situation, Medicare will cover up to 100 days of care in the facility as follows: the cost to you will be $0 for days 1-20 and $128/day for days 21-100. You are responsible for all costs after day 100.
Does My Medicare Supplemental Insurance pay for long term care?
Medicare supplemental insurance policies (also called Medigap Insurance) are designed to cover some of the "gaps" in Medicare. These gaps refer to Medicare co-pays and deductibles. Supplemental policies are great for reducing your out-of-pocket cost for services that are covered by Medicare, but they do not cover long term care expenses.
Will my Disability Insurance pay for long term care?
Disability insurance is intended to replace some of the income of a working person who becomes disabled and can no longer work. Disability benefits do not cover either medical care or long term care. They provide a partial salary replacement while you are unable to work. Most disability insurance policies do not provide any benefits once you are over age 65 – exactly when you are most likely to need long term care.
Does Medicare pay for any equipment that will help me stay at home?
Yes. Durable medical equipment is reusable medical equipment such as walkers, wheelchairs or hospital beds. Anyone who has Medicare Part B can get durable medical equipment as long as the equipment is considered "medically necessary". You must have a prescription from your doctor and the equipment must be supplied by a medical equipment provider who is officially approved by Medicare. If you meet these requirements, Medicare will pay 80 percent of its "approved" amount for rental. (Equipment through Medicare is Rent-to-Own for 13 months.) Note that you must meet a yearly Part B deductible which is currently $135. The patient must pay the other 20 percent either out-of-pocket or through Medigap or other insurance. Check with your provider before ordering to ensure they'll pay for it. Note also that it is best to discuss your individual circumstances with a knowledgeable advisor because there are such caveats as Medicare only paying for a single ambulatory device in a lifetime. In other words, you might want to pay for the walker yourself if you think you will need a wheelchair down the road, because a wheelchair is significantly more expensive.
What is the State Health Insurance Assistance Program (SHIP)?
There are State Health Insurance Assistance Programs in every state with counselors that provide free one-on-one help with your Medicare questions or problems, including Medicaid, Medigap, long-term care insurance and other types of health insurance. In Pennsylvania the program is called Apprise Health Insurance Counciling Program 1-800-783-7067. In Delaware the program is called ELDERinfo 1-800-336-9500.
How does the cost of home care compare to nursing homes or assisted living?
Homecare is less expensive than both nursing homes and assisted living. The only exception can be where 24-hour home care is needed. But you still get one-on-one care as opposed to one caregiver for every 10 patients in a facility – and you stay in your own home!
Do you provide care within care facilities?
Yes we can provide care within nursing homes, hospitals, assisted living, continuing care and hospice settings. All our caregivers, because they are CNA qualified, will have spent some time working in a facility.
Are you licensed?
Yes. Since December 2009, all non-medical in-home care companies in Pennsylvania require a license. In Delaware we are license: the licence is known as 'Home Health Agency – Aide only', and is awarded only to home care companies who have a full time Geriatric RN as Director of Care Services.
What is Caregiver Burnout?
Caregiver burnout is a state of emotional, mental, and physical exhaustion caused by excessive and prolonged stress. Please see our section Caregiver Burnout for signs, causes and preventive measures.
How do you select caregivers?
First they have to love be a caregiver and show a natural warmth and kindness. They need to be CNA qualified. All caregivers then go through face-to-face interviews, screenings and criminal background checks. They then go through our Orientation program before being allowed into your home – regardless of their experience.
Can I meet the caregiver in advance?
Yes, of course. Finding the right personality is the key to both happy and effective home care. We cover this during the initial assessment.
What if my care giver goes on vacation or is sick?
We have a ready supply of great caregivers that are ready on a moment's notice in case of sickness or emergency. We certainly receive advanced notice of any vacation requests, so that is not usually an issue. All caregivers must check in every day when they first arrive at your home so we'll know very quickly if there is an unscheduled absence.
What if the caregiver doesn't suit us?
We recommend caregivers based on your needs and requirements. If you don't agree with our recommendation or are unhappy with a caregiver for any reason, we will find another one that better suits your needs.
How quickly could we get help? We can provide help within as little as 24 hours. Please remember that regulations now demand that all recipients of care need to be provided a number of documents prior to receiving care in their home. This is designed to protect the care recipient. We can forward all of this to you, without any obligation on your part, in advance.
Do I pay the caregiver directly?
No. All our caregivers are employed by us. That means we pay all their taxes, social security, insurances and workers compensation on their behalf so you won't have this worry. We invoice you directly for the services provided.
How are your services different from other home care companies?
An aging population and growing market for home care is attracting many different types of individuals to set up shop as home care providers. Many have no medical experience (you don't need medical experience to buy a home care franchise – that's one of their main selling points) and fewer still with a knowledge of geriatrics and aging. There are an even fewer number of providers with a full time geriatric RN. Delaware mandates this in the license held by Four Seasons Healthcare. Pennsylvania does not. Delaware does not mandate it for the license typically held by Franchises (Personal Assistant Services Agency or PASA). We are not unique but we are one of the few – the very few, with the relevant medical heritage.